ACMAD_Dialogue_Day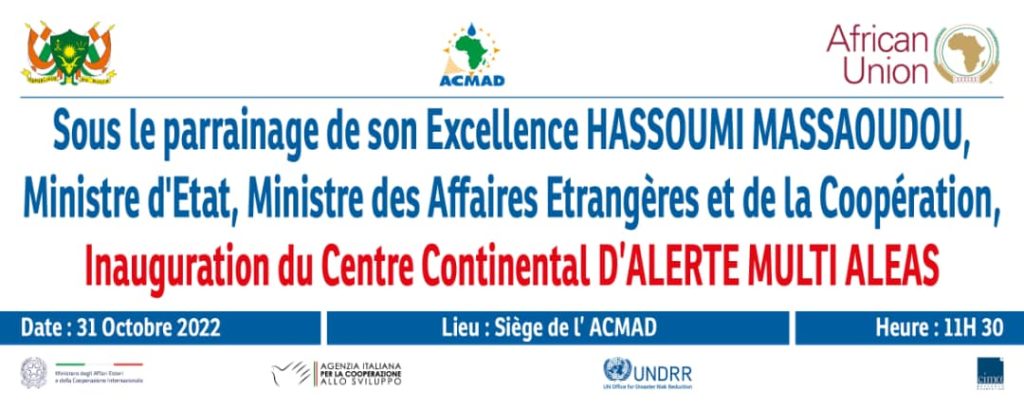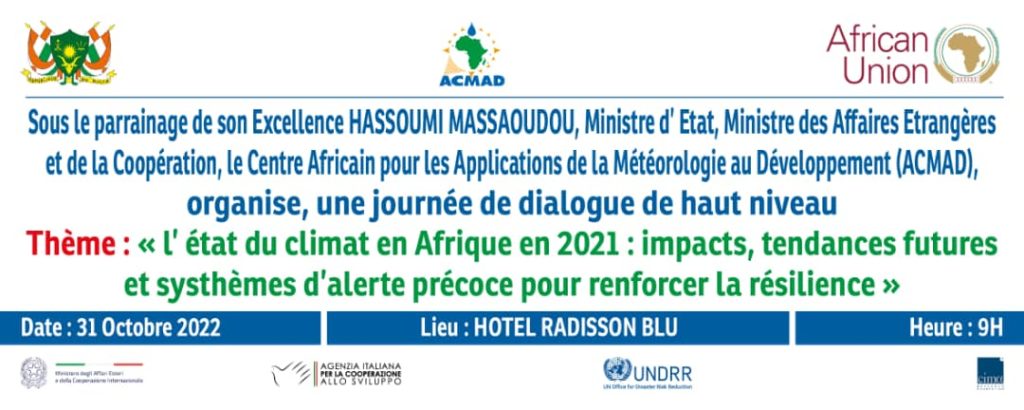 About DIALOGUE

It is well recognized that Multi Hazards Early Warning and Early Action Systems are essential for people to prepare and act early in case of disasters. Governments and partners have demonstrated evidence that Early warning systems well implemented support substantial reduction in disaster losses.The Program of Action for implementation of the Sendai Framework for DRR in Africa, the revised African strategy on meteorology target by 2030 to develop and modernize early warning systems generating information accessible and available on hazards, impacts, disaster risk assessments, preparation, emergency, response measures and action plans.
The African Centre of Meteorological Applications for Development (ACMAD), the African Union Commission, the World Meteorological Organization, the UNDRR, the International Centre for Environmental Monitoring (CIMA-Italy) and other partners are strengthening capacity in Africa to deliver climate change and multi-hazards Early warning information for climate change adaptation and Disaster Risk Reduction.
Some African countries have started work to establish standard monitoring and warning systems. Integration from local, national, regional and continental levels and operational linkages with preparation, emergency response and action planners, sustainable financing mechanisms ensures that the right decision makers and emergency or humanitarian actors are reached at the right time.
A continental Multi hazard advisory Centre is established at ACMAD to support the situation room based at AUC in Addis Ababa with regular continental hazards and disaster situation reports, continental climate trends and impacts as well as impact-based advisories and watches. The situation room uses situation reports, advisories, outlooks and watches for communication and discussions towards planning and update of emergency preparation and response measures and actions.
The launch of the continental multi hazards advisory Centre is a component of the modernization of Early warning systems in Africa. Climate trends and impacts, multi hazards outlooks, advisories and watches will be presented as principal services of the Centre. The Centre will support National Meteorological Services and other national stakeholders during hazard seasons to deliver warnings and support well informed preparation and response actions.
DIALOGUE OBJECTIVES :
The objective of the inauguration ceremony is to share information on climate hazards, trends and impacts for 2021 and officially launch the Continental Multi Hazard Advisory Centre as a component of the AU Multi Hazards Early Warning System. It is also an opportunity to increase visibility and strengthen communication on the climate change and disaster risk reduction activities at ACMAD supporting implementation of WMO global programs in Africa.
EXPECTED OUTCOME :
After welcome message by ACMAD, remarks by the African Union Commission, UNDRR, CIMA, the Representative of Italian embassy in Niger on the opening speech of the representative of Niger Government, an introductory presentation on the climate trends and impacts for 2021 and the Continental Multi Hazards advisory Centre will be made. Keynote addresses will follow on policies-strategies – program of invited institutions on climate change adaptation and mitigation as well as disaster risk reduction for resilient and sustainable development. A question-and-answer session will help to identify key points to inform future policy discussions and strategic directions for implementation of international agreements on climate, sustainable development and disaster risk reduction in Africa. A special emphasis will be put on the implementation of the Sendai Framework program of Action under the agenda 2063. Before the closing session, a summary of the achievements will be presented. The network between DRR policy makers and weather /climate services providers will be strengthened.
Contact
For more inquiries, please contact this following link:   contact@acmad.org