COP 28
DATE
30 November – 12 December 2023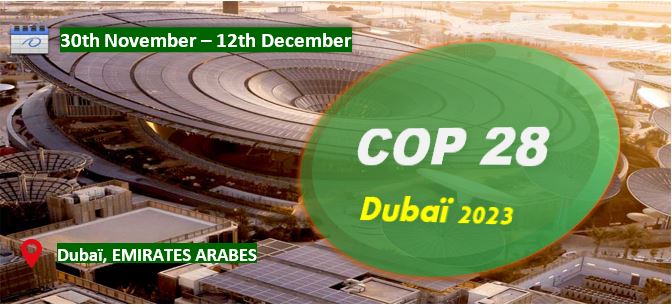 ACMAD at COP 28

ACMAD was established following the resolution 540 in 1985 of the conference of Ministers of Economy, finance and development planning of UNECA following the severe droughts of the 1970s and 80s in Africa characterized by nearly a halt of Niger river flow in parts of the basin.
The center is more than ever determined to leverage on the strengths of partnership to serve member states supporting resilience to disasters and adaptation to climate change across Africa helping to realize the AU agenda 2063 "The Africa Event".
Therefore, the center is at the heat of efforts to build resilience to extremes weather/climate and reduce impacts of climate change on Africa's development initiatives as enshrined into the Paris Agreement.
ACMAD participates at COP 28 as Intergovernmental Organization and supports African Negotiator by providing Climate Information and trend over the African continent.
AT COP 28, ACMAD will organize four side events to emphasis the impact of Climate Change at Continental level. 
About COP 28
The 2023 Dubai Climate Change Conference, or COP 28, is an international conference of the United Nations taking place from November 30 to December 12, 2023 in Dubai, United Arab Emirates. It will be the 28th Conference of the Parties and will bring together representatives of the signatory countries of the United Nations Framework Convention on Climate Change (UNFCCC).
Objectives:
The first objective is to ensure a fairer distribution of funds dedicated to the fight against climate change. This issue has been the subject of heated debate at previous conferences, with many developing countries pointing out that they are often the most affected by global warming while having fewer resources to deal with it. Discussions will focus on developing innovative and equitable mechanisms to redistribute these financial resources with a focus on transparency and accountability.
The main objectives will be the creation of a global carbon tax system, ending dependence on coal, phasing out fossil fuels and ending investments in the gray or brown economy
Expected outcomes:
Little is known about the final shape of the Global Stocktake results as they will be presented at COP28. Decisions voted by the Parties at COP28 will be adopted, and a political declaration may also emerge from this process. The Katowice decisions specify that Parties will be invited "to submit their Nationally Determined Contributions, according to the results of the global stocktake, at a special event to be organized under the auspices of the Secretary-General of the United Nations".
In the meantime, a Climate Ambition Summit will take place in September 2023, organized at the initiative of Antonio Guterres, Secretary-General of the United Nations, to push for more tangible and credible action from the largest emitting countries.

ACMAD'S COP 28 Activities Calendar